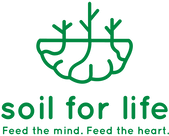 Come to our first Talent Market at Soil for Life, a permaculture-based mini-farm in Constantia.
Soil for Life is a non-profit organisation (NPO) based in Cape Town that helps people learn to grow healthy, organic food using simple, low-cost, environmentally-friendly methods. See the Soil for Life website: soilforlife.co.za
DATE: Saturday, 9 November 2019
VENUE: Soil for Life, Brounger Road (behind Peddlars on the Bend), Constantia, Cape Town. Follow the signs to 'Soil for Life' from Peddlars.
View map
TIME: 10:00 – 13:00
TRADERS: Set up from 09:00
This will be a Talents-only market!
Beautiful rustic venue with secure parking under shady trees. Venue has space inside and outside.
Gifts, cards, food, clothes, plants, bric a brac, art, books, readers, healers, and all sorts of other goodies plus edutainment… including old friends and new.
Tables cost T100 (no Rands). There are limited tables at the venue so to reserve one, contact the CTTE Administrator immediately at admin@ctte.org.za. Otherwise you will have to bring your own table.
Please note that no-shows will be charged.