Tell your friends about the Talent Exchange. It's important that we get our numbers up and some serious offerings listed at this time of economic uncertainty.
It is very easy to inform your friends about the Talent Exchange: there is a special button to do it!
Log into your account and click on the [Home] button. You will see an Invite option: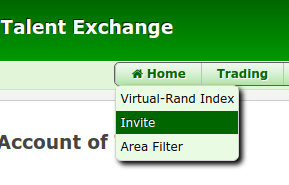 Click on that and a pop-up window will display an invite form. Simply fill in your friend's email address and press the [Send Invitation] button. Before sending, you can enter some text of your own that will be sent along with the invitation. You can send yourself an invitation to see what it looks like.